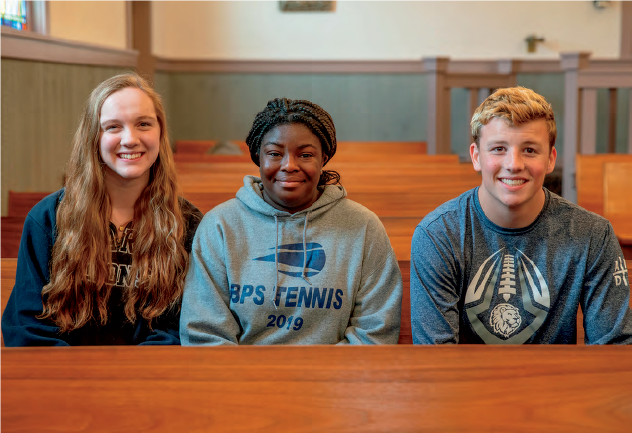 Because the entire Bellarmine experience is intended to be formative for our students, faculty and staff, we continually seek ways to be more intentional and structured in this formation. This year we developed and launched a new Ignatian Formation program. This four-year curriculum-based program turns homeroom into a dedicated class period during the instructional day. It builds upon and replaces the "Community Period" model we have had for many years.
The Formation program is grounded in the Graduate at Graduation, guiding principles from the Jesuits for our students, asking them to be Open to Growth, Intellectually Competent, Religious, Loving and Committed to Justice upon graduation. The program is modeled after the Spiritual Exercises, a Jesuit set of Christian meditations, contemplation and prayers. It also creates a new way for students to grow and develop friendships together.
"Our desire was to create a program that allowed each year to build upon the previous," Principal Cindy Davis said. "This allowed us to create a true four-year program that  leads students to the ultimate goal of achieving the 'Grad at Grad.'"
The program culminates with a senior project that allows students to see how their actions truly make a difference. The project will focus specifically on their service work and reflections. While service has always been part of student formation at Bellarmine, this exciting move creates further opportunities for what we hope will become lifelong commitments to serving others. Sharing their experiences with classmates and teachers will allow for deeper reflection and greater awareness of the needs within our community.
"We want the students to find their place in this world," Davis said.
Freshman and sophomore students are more focused on the "self," learning about why service is important and the injustices that exist in the world. Then, beginning junior year, the program moves to "active service," where the students choose a year-long service project, and finally their senior year they will present on what they learned during their previous three years in front of an audience.
"The active service project their junior year will allow them see God through and in service, and how their actions will help others know Jesus Christ more fully," Davis said. "The culminating project allows them to see how their action makes a difference in this world."
Bellarmine is partnering with many different service organizations to make it easy for our students to find a project that fits with their passion. We will continue our relationships with local organizations such as L'Arche Farms, Nativity House, Catholic Community Services, and Operation Keep 'em Warm and Fed, as well as National and International opportunities rebuilding homes in New Orleans with Shirts Across America and building athletic sports courts in Jamaica and Panama with Courts for Kids. We also will be looking for new groups to partner with, allowing us to provide a wide variety of service opportunities to the students. 
Julie Hiles B'98, current PE/Health faculty, is taking on a new role as Service Coordinator. She will be responsible for finding these organizations and developing new relationships.
The goal of the program is to create a sense of direction for the students by educating them through a Catholic lens with a Jesuit pedagogy, to give them a real sense of a purpose to go out and change the world in which we live.
"I love that there are so many different interests on this campus. We are giving students an opportunity to explore their passion, but that passion isn't just self-serving," Davis said. "It is as Jesus Christ intended, for us, to use our skills and passion to help other people. We are creating a structure for that intention."
Bellarmine is creating a path for our students. What they do with that path will be up to them. When they go off to college, we want them to find a community where they can continue to live out these ideals and expose them to those around them.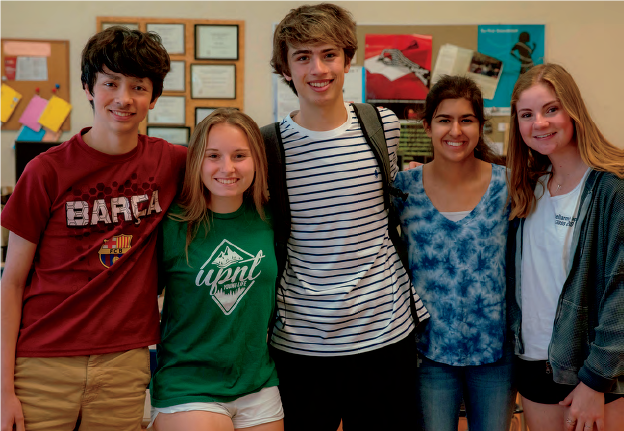 "We create opportunities, but we have to give them a reason to create or find additional opportunities when they leave Bellarmine," Davis said. "We want them to stay on the path we created for them."
The Ignatian Formation program provides an enormous opportunity for students to discover who they are, and shape their future career and how it connects to the service project they choose.
"It brings all the disciplines together, regardless of what the students are interested in," Davis said. "Whatever they are passionate about, they can bring that into their service project." 
Launched during the 2018-19 school year, Ignatian Formation is in its infancy. The class of 2022 will be the first class to experience the full, four-year program. We are excited for what the future holds for this program and how it will help shape students to be even more service-oriented, intellectually competent, loving, religious, and willing to change, grow and adapt within this ever-changing world.