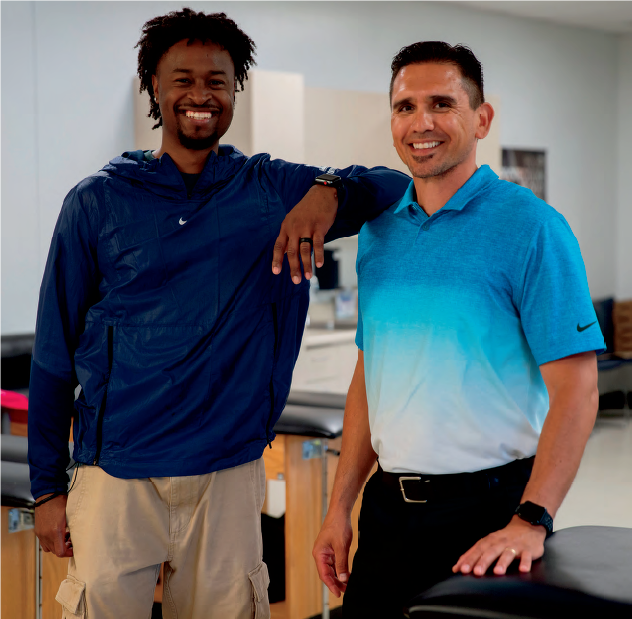 The Athletic Training Program Serves Bellarmine's Student Athletes in Many Different Ways
The role of the athletic trainer and the Athletic Training program is extremely important at a high school. Tasked with looking after the well-being of 500 student athletes during three different athletic seasons during the school year, Bellarmine's Athletic Training program has been serving the Lions for almost 35 years.
For 21 of those years, Head Athletic Trainer Tigre Garcia has roamed the sidelines and the training room, caring for our injured athletes. 
"From my understanding, Bellarmine was one of the first schools to hire a Certified Athletic Trainer back in the mid-80s," Garcia said.
Garcia started his career working as an athletic trainer at Westgate Physical Therapy in Tacoma. After sustaining a knee injury, he knew he wanted to become an athletic trainer because of the unique and personal role athletic training played in the rehabilitation process. Athletic trainers, literally, get athletes back on their feet.
"As someone who has always been involved with sports, serving as an athletic trainer has allowed me to gain a greater appreciation of athletics and the athlete," Garcia said.
Garcia's leadership and vision has allowed the program to grow and flourish. The department's mission states, "The Bellarmine Preparatory School Athletic Training program is dedicated to providing quality medical care to student athletes, coaches and staff. The services offered are divided into the following categories: injury prevention, recognition and management of athletic injury, rehabilitation of athletic injury, emergency medical care and communication with parent/guardian."
The growth of the department led to the hiring of Assistant Athletic Trainer Michael Peterson, five years ago. Like Garcia, Peterson is a member of the PE/Health Department, and his reasons for becoming an Athletic Trainer mirror Garcia's.
"Throughout high school and college I sustained many injuries that kept me in the athletic training room. After seeing the knowledge and impact on young lives my athletic trainers had, I saw an opportunity not only to keep Athletics as a big part of my life but also to be a positive role model to young athletes," Peterson said.
Peterson also loves the sense of community at Bellarmine.
"Living in Tacoma and being married to an alumna, I had already known a lot of people associated with Bellarmine," Peterson said, "So it helped to make me feel really comfortable when I accepted my position."
Along with Garcia and Peterson, the training program consists of many student trainers. The philosophy of the program is directly tied to the support and training of these students, stating, "Our philosophy is to find students who are willing to serve their peers, appreciate the student athletes and seek to further understand sports medicine. We want to introduce them to a variety of experiences in the sports injury related field. We want them to gain a greater appreciation for the human body, a greater understanding of the role of an athletic trainer, provide them with an introduction in management of injuries sustained in sports, enhance their communication, social and leadership skills and understand the importance of working as a team."
Sierra McCann-Morgan B'19 joined the program fall of her junior year, after becoming interested in becoming an athletic trainer during Sports Medicine class. She has learned much more than giving out bags of ice or taping ankles.
"I have learned so much about the medical side of things," McCann-Morgan said. "I have done ultrasounds and diagnosed injuries. It really has made me feel like a real doctor at times."
Working with the student trainers is one of the most rewarding parts of the job for Garcia and Peterson. Watching students serve their peers and observing their growth as trainers are highlights for the two of them. 
"Service is exactly what our job is as athletic trainers," Peterson said. "We are there when student athletes are injured, but we also try to educate athletes about what they can do to help prevent injuries."
Garcia is impressed with how the athletes treat the student trainers. There are many students on campus whose interaction with each other is solely in the Athletic Training room or on the playing field. This introduction through sports only builds on the "community" aspect of Bellarmine, something both Garcia and Peterson say is a huge part of what makes Bellarmine special.
"The respect between student athlete and student trainer is heartwarming," Garcia added.
McCann-Morgan agrees with Garcia. She said sometimes the athletes can be frustrated if they cannot play, but she knows they respect whatever diagnosis they are given.
She also added this aspect of the trainer job has really helped her with her people skills. 
"Being a trainer has really helped me to understand and work with people better," McCann-Morgan said, "and these skills have also helped in other areas, like working with my peers on group projects."
The mentoring that takes place within the program is also vital to the job. The role of the athletic trainer is to offer guidance, re-assurance, encouragement to students to follow their passions in the medical field and promote the importance of health and wellness.
"One of the reasons I went into this profession was because I like helping people and seeing the student trainers develop a passion for this field, which can potentially turn it into a career path, reassures me that I chose the right path for myself," Peterson said.
While Garcia and Peterson strive to stress the importance of the Athletic Training program, there are still some misconceptions and lack of knowledge about what they do. There are those who think that if a student athlete goes to see the trainers for injury management that they will not be allowed to return to their sport. This however, is far from the truth. If they deem an athlete's injury playable, they will return to their respective sport. 
"One of the most challenging parts of our job is identifying strategies that will assist student-athletes and/or parents who are not familiar with the role of an athletic trainer on our campus," Garcia said. 
Continued commitment to the Athletic Training program by the school has allowed it to thrive and grow. When the old Booster Gym was renovated over 10 years ago, and construction began on the St. Ignatius Loyola Center, which houses the Booster Gym, Names Gym and Athletic Training room, Garcia was given autonomy on the design of the training room, which provided a space that fit all the needs of the student athletes recovering from injuries. Bellarmine was also the first high school in the state to install a polar plunge cold tub, a state-of-the-art preventative measure for our athletes.
"Our facility is not just to help athletes recover from injuries; it is also to help prevent injuries from occurring," Peterson said.
Garcia is excited for the future of the program. Along with continuing to serve the student athletes, he would like to enter the student trainers into a state competition. Peterson added a future goal is to continue to increase education of the Athletic Training profession.
McCann-Morgan is proof that their education is working, as she plans to continue on with athletic training in college. She is attending Washington State University next year, where she is enrolled in the prestigious five-year Athletic Training master's program. She then plans to attend Physical Therapy graduate school to earn her doctorate.
"I love it so much I don't mind going to school for many more years," McCann-Morgan said. "The best decision I made was joining the Athletic Training program at Bellarmine."
One thing is certain, our student trainers are prepared to be servant leaders in their chosen fields, whether that means continuing in athletic training like McCann-Morgan or other service-oriented paths, because of the preparation they received from being a part of Bellarmine's Athletic Training program. 
---
"Mr. Garcia and Mr. Peterson are the best people to learn from when it comes to this program. They both want the students helping out to become as knowledgeable as they can, all while having a good time. When the students are helping in the Athletic Training room, both athletic trainers treat the students like adults and give them responsibilities. This allows the students to grow in maturity as well as learn to take pride in their work, which is a good quality to have in life. So beyond the simple things like anatomy and what each tool in the athletic training room does, Mr. Garcia and Mr. Peterson have taught me to be responsible and do the things that I do with pride."
- Roman de Guia B'20, Student Athletic Trainer