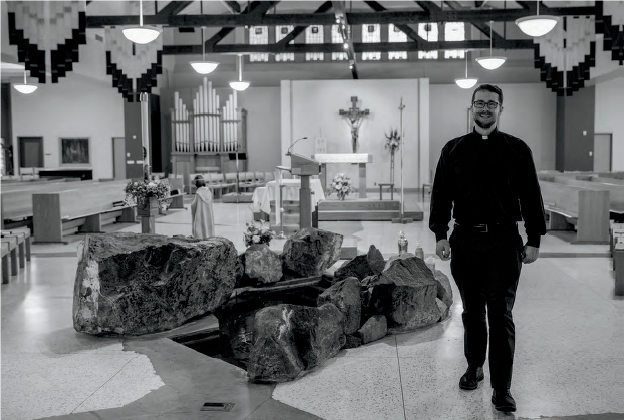 To borrow the Jesuit Volunteer Corps catchphrase: Bellarmine ruined me for life. The classroom, retreat opportunities and school liturgies opened me up to whole new ways of seeing the world and sent me off with a solid foundation in Catholic Social Teaching and a burning desire to commit my life to what Superior General Arturo Sosa, S.J. names as one of the new Universal Apostolic Preferences of the Society of Jesus:
To walk with the poor, the outcasts of the world, those whose dignity has been violated, in a mission of reconciliation and justice.
We studied these themes in the classroom. I remember reading The Power of One by Bryce Courtenay in Rita Kowat's Social Justice class, Manchild in the Promised Land by Claude Brown and The Education of a WASP by Lois Mark Salvey in John Woltjer's Civil Rights class, books that made me uncomfortable with easy answers and stoked in me an anger at injustice and exploitation of the vulnerable. I remember coming down off the hill to spend time with elementary school students in Lynne Christiansen's Community Service class and visiting L'Arche Tahoma Hope. I remember becoming aware of Guadalupe House Catholic Worker and their care for those experiencing homelessness and Fr. Bill Bichsel, S.J.'s B'46 leadership in the peace movement through nonviolent direct action. I remember former president Fr. Dan Weber, S.J. preaching about the six Jesuits who were assassinated in El Salvador in 1989 alongside their housekeeper and her daughter. Meanwhile, the urgency of a pained and broken world hit closer to home. Two students murdered 12 of their peers and one of their teachers at Columbine High School, the U.S. would invade Iraq within three years' time, and protestors tried to shut down the meeting of the World Trade Organization in Seattle. I felt a call to respond, to work for peace and justice. I wanted to enter the Jesuits right away, but Fr. Gerry Chapdelaine, S.J. and Fr. Craig Hightower, S.J. told me to go to college first. 
After 19 years and a journey through Jesuit formation that took me to stints in Portland, St. Louis, Guatemala, Colombia and Missoula, I am back in Tacoma. I live in the Bellarmine Community of 11 Jesuits on the second floor of Orton Hall on the Bellarmine campus. Our Provincial, Fr. Scott Santarosa, S.J. missioned me to be the pastor at St. Leo parish in the Hilltop neighborhood. My job is to serve and promote the mission of the parish: "a Jesuit parish, a Catholic community centered in the Eucharist, enriched by diversity, committed to Gospel values, and continually seeking to be Christ's servant presence in the world." Christ brings peace and healing by his very presence in the Eucharist, in the Sacrament of Reconciliation and in our efforts to bring people together and respond to the needs of others.
It would be an easy temptation to look at the flurry of activity at St. Leo and to name the ways we already live out the preference to walk with the excluded. Jesuit parishes are places where the rubber hits the road, where all the theologizing and theorizing encounters real people with real hurts and needs. The new preferences invite us to reflect deeply on where and how we can work collaboratively in this field hospital of the world, and where we are called to unite people where they are separated and heal them where they are wounded. They invite us to envision how we are can bring hope to desperate situations and imagine new roads forward in close relationship with society's most marginalized people.
St. Leo is situated right where we need to be to walk with the poor and vulnerable. We welcome the LGBTQ community, as well as other Catholics who have experienced rejection or exclusion in the Church. Many of the core members from L'Arche Tahoma Hope are active parishioners. St. Leo Emergency Services provides support for people experiencing homelessness by assisting them with housing and job searching. Rick Samyn, our Pastoral Assistant for Social Ministry, coordinates with other service providers and focuses on helping individuals problem-solve. The St. Leo Food Connection is the second largest food bank in the county and its clients are among society's most vulnerable, including seniors and populations most affected by a compromised diet. Kevin Glackin-Coley and the Food Connection also provide job training in driving, customer relations and computer skills. St. Leo also maintains a close working relationship with our neighbors in the G-Street community, including the Jesuit Volunteer Corps, Guadalupe House Catholic Worker, and Nativity House and Catholic Community Services. 
Since arriving in Tacoma last August, I've entered into relationship with other Catholic Parishes in Tacoma as well as other Christian Communities. We meet monthly as people who love Tacoma and want to work for peace and justice here. We pray together and often combine our efforts to more effectively serve this community.to the signs of the times. When the current administration began its "zero-tolerance" immigration policy, including the separation of children from their families, a group of over 80 concerned parishioners began to discern how best to respond. The Immigration Response Group now meets regularly to implement actions in prayer, advocacy and service on behalf of immigrants.
It is important to remain ever-vigilant that these efforts begin in and are carried out through Christ. As such, Fr. General Sosa, S.J. introduces the new universal apostolic preferences in his letter:
It is He, the incarnate, crucified, and risen Lord, who shows us his wounds and invites us to join with him in the quest for justice. He impels us toward new frontiers, accompanying those whom society has discarded, announcing the Good News to one and all, so that they might be transformed by the love of our God. Our hardened hearts are changing day by day, becoming filled with mercy and compassion. Sent as companions in a mission of reconciliation and justice, we resolve to accompany the poor, inspired by our faith in God the Father of mercy who invites us to embrace reconciliation as the foundation of a new humanity. 
As you reflect upon the ways God may be calling you to respond, consider these questions:
•    What has been my experience of being close to the poor and marginalized, and what have I gained from it?
•    How can I make this closeness more effective and fruitful?
•    How do I experience a mission of justice and reconciliation in my work?