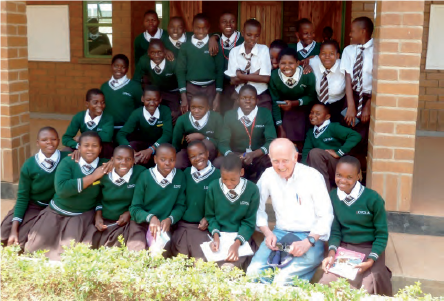 How can a Jesuit secondary school in an African country provide an opportunity to "walk with the poor," as required of Jesuits by the recently announced Universal Apostolic Preferences? I feel obliged to ask that question of myself and others with some honesty and humility. 
After Jesuit education at Bellarmine and Santa Clara University in the 1950s, I joined the Jesuits and have had wonderful educational and ministry assignments in many different places. In 1991, I became a member of the Zambia-Malawi Province. This has given me the recent opportunity to help establish a Jesuit school in a country where most children lack the chance of good schooling.
  
Malawi is classified by the World Bank as one of the 10 poorest countries in the world.  Yes, a poor country, but a peaceful country with great potential! Surely one of the most important of these is the youth-more than 50% of Malawi's population is under 16 years of age. But right now, less than 30% of the youth have a chance to attend secondary school and less than 10% actually complete the required four years. Sadly, the statistics for girls are substantially lower. 
The Universal Apostolic Preference #2 emphasizes the need "to discern who are the most vulnerable and excluded persons in our midst and to find ways to walk closely beside them." Offering a good Jesuit education in Malawi right now really does challenge us to walk with the poor.
To bring some of the potential of Malawi to realization, the Jesuits of Zambia-Malawi Province have chosen "to walk with the poor" by setting up a strong secondary school in the poor rural area of Kasungu. Loyola Jesuit Secondary School (LJSS) is co-educational and all-boarding-just under 500 girls and boys in attendance as we reached our first graduation in June 2019-48 boys and 49 girls, an important gender balance.  
To assure that our school would not be "elitist" but really open to families of lesser means, we chose to cooperate with the government of Malawi to make LJSS a "grant-aided" school. This means the government pays teachers, thereby reducing annual enrollment fees to the equivalent of less than $500 per year. This makes our school more readily available to families of lesser means. (We like to think that Joseph and Mary could have enrolled Jesus in LJSS!)
But even that fee is too much for many of our learners (the expressive term applied to secondary students in Malawi). So, we have sought contributions to establish an endowment fund to provide scholarship assistance for those learners most in need. The generosity of many has been a real encouragement. It is clear that assisting with tuition is really important-whether at Bellarmine in Tacoma or Loyola in Kasungu!  
The UAP #2 also states something with strong implications for Jesuits of the Zambia-Malawi Province: "The path we seek to follow with the poor is one that promotes social justice and the change of economic, political and social structures that generate injustice…"  Two important Zambia-Malawi Province projects directly follow that path: (1) Jesuit Centre for Theological Reflection in Lusaka, Zambia - it advocates for just political policies like honest elections and budgets that serve the poor; and 2) Jesuit Centre for Ecological Development in Lilongwe, Malawi - it promotes village planting of trees and country wide small stoves thatlessen deforestation.