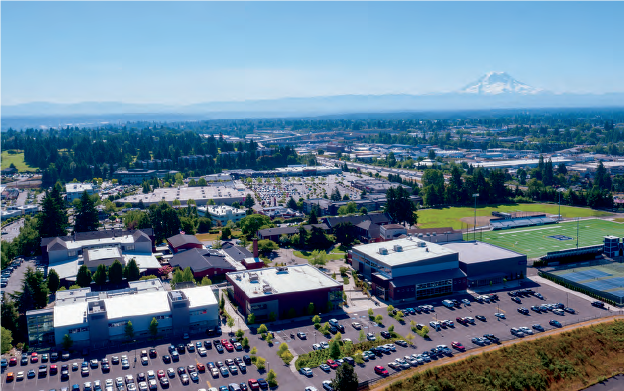 For nearly 100 years, Bellarmine Preparatory School has educated generations of high-achieving young men and women from the South Puget Sound, grounding them in a college-preparatory education based in the Jesuit tradition. Today, Bellarmine continues to graduate young men and women of competence, compassion and conscience, who are committed to leadership and service. Bellarmine students: 
Represent our community; Students come from 78 unique zip codes, 40%are students of color and are evenly split between men and women.
Engage beyond academics; 85% of our students participate in at least
one club or activity, and engage in a broad range of service programs for the community.
Expand their faith; 95% attended one or more religious retreats last year.
Demonstrate their academic success; 100% last year continued to college, and scored 20% higher than the national average on standardized tests.
Commit to leadership; More than 100 students involved in formal leadership training and many more leading their peers through a broad range of co-curricular activities.
CHANGING NEEDS
Over the last decade, Bellarmine has conducted several successful capital campaigns to construct new and renovated buildings and facilities such as the Booster Gym, Connelly Campus Center, the Names Gym and Memorial Field. These projects and the creation of the Learning Resource Center in the Orell Library facility along with other smaller projects throughout the campus have ensured that the physical plant has evolved to meet the changing needs of students and faculty. However, during recent planning sessions the board and administration recognized that Bellarmine's greatest need is no longer physical infrastructure. The composition of the Bellarmine student body has become more socio-economically diverse over the past decade and we are experiencing great pressure to expand our ability to provide tuition assistance.
Bellarmine's Board and Administration have done everything possible to maintain tuition affordability, including increasing administrative efficiency resulting in $2 million in savings over the last two years. However, the last two admission cycles have seen a continued upward trend of qualified applicants that had to be turned away due to the lack of tuition assistance available. In fact, tuition assistance is the greatest need our families face and for many, these funds—or the lack of them—make a critical difference in their ability to attend. The Second Century Campaign will sustain our Catholic Jesuit tradition, transform lives and secure the future of the school. 
---
Today, with more than 40% of our students receiving tuition assistance with an average tuition grant of more than 35% ($6,000) per student, the need for a sustainable and predictable source of revenue for tuition assistance is greater than ever before. At our current level of distribution from the Bellarmine Endowment coupled with annual funds raised, we are barely able to sustain the level needed to provide equitable access for our deserving students.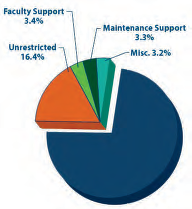 Total Endowment by Area of Distribution:
74% of the funds in the endowment are designated for Tuition Assistance, followed by Unrestricted, Faculty support, Maintenance support and all other funds.