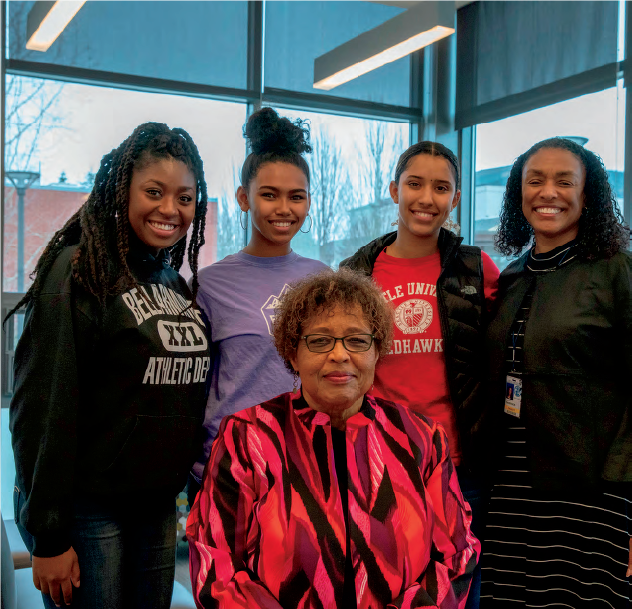 "Accompanying The Young In Creating a Hope Filled Future"
Gwen began her many years of service to Bellarmine and its mission as a member of the Board of Directors, where she served from 1995-2001. During her time on the Board, she was asked to meet with African American students to discuss their concerns regarding diversity at Bellarmine. These conversations resulted in Gwen forming Parents of African American Students Association (PAASA), which is still an active group at Bellarmine today. Gwen was then asked to co-direct a newly created Diversity Office with Fr. Brian Pham, S.J.
Gwen was later hired as a member of the school's staff, and from 1999 to 2012 was responsible for the creation, implementation and direction of Bellarmine's Diversity Office, known today as the Office of Diversity, Equity and Inclusion. 
Gwen and Fr. Pham were tasked to put a structure in place for Bellarmine to focus on recruitment, curriculum development, and retention of underrepresented minorities to become part of the Bellarmine community. Part of their focus was for the campus to become culturally competent in its relationships and workplace. As part of this work, Gwen frequently went out into the greater Tacoma and Pierce county area to speak to school counselors, churches, and community centers to help families see an opportunity to become part of the legacy and vision of Bellarmine. She also worked tirelessly on campus, within the school community, going into classrooms and speaking with students and faculty about social justice and the impact of dialogue. Faculty development and parental support were also important features of her work.  
"I cannot imagine a more fitting recipient than Gwen for this recognition. From our very first day in the Diversity Office back in 1999, her commitment to Bellarmine's mission to educate and care for the whole person was always at the forefront. It is an understatement to say that the lives of the young people and their families who walked into our Diversity Office were forever changed because they had Gwen as their tireless advocate", shared Fr. Pham.
In addition to her service at Bellarmine, Gwen has worked with many groups in Pierce County including Associated Ministries, which engages and equips congregations and others to address the many needs in Pierce County through advocacy, education and service. She also spent several years as a member of the Greater Pierce County Community Network, which was established by the legislature to create community public health and safety networks to reconnect parents and other citizens with children, youth, families, and community institutions which support health and safety.
She was a Member of the Pierce County Library Foundation which raised, managed, and allocated funds to support and enhance the programs and services of the Pierce County Library System.
She has two sons, Jonathan B'95 and Jeremy B'98. Jonathan finished at WSU and worked for Microsoft for 10 years and is currently a Manager for the Phillips Corporation. Jeremy finished at Pepperdine, received an MBA from the University of Southern California, and is the International Theatrical Marketing Director for the Disney Corporation in Southern California.
Gwen believes that "to become a multicultural nation, we must have relationships based on respect, understanding and reflection where our differences and our similarities are embraced, valued, and integrated into the very fabric of our workplaces, communities, schools and governmental institutions".
"Gwen's strong ties to the Tacoma community and passion for serving others allowed her to meet the needs of so many students and their families. Gwen modeled for students, parents and Bellarmine employees the importance of listening, loving and serving every member of our community regardless of their ethnic, cultural or socio-economic background," Principal Cindy Davis said. 
"Gwen retired from the position of Diversity Director several years ago, but her work continues to have an impact on our campus and in our broader community. 
Thank you, Gwen!"  
Further Reflections on Gwen
"Gwen made many sacrifices for Jesuit education. While she could have withdrawn from community life after her husband passed away, while there were many times she could have been angry about the world she had to raise her two sons in, she never showed frustration or made people feel judged. She has always spoken the truth, and I personally received an education from her about elements of our culture I had never seen before. She manages to do this in a way that you know of her trust, love and concern for you. And this motivates you to learn and grow, and be a better person." 
- Former Bellarmine President Jack Peterson
"It was a privilege for me to have worked with you and walked side-by-side with you during those first few years of the newly formed Diversity Office! I can still hear the many laughs we shared in that little office as we charged forward in our works with lots of uncertainties, but always with a clear sense of mission. Thank you for your generosity, your passion, and your commitment to the work of the Society of Jesus in Tacoma and beyond."
- Fr. Brian Pham, S.J.
"Gwen constantly connected the commitment to diversity and inclusion to the Jesuit tradition and Ignatian principles. Along with faculty, staff and Jesuits, she attended many Jesuit Secondary Education Association conferences and events that shaped the vision and values of our community. She was a pioneer who steadily pushed diversity and inclusion in a forward direction. As Bellarmine and our then President Jack Peterson began to understand the value and benefit of a diverse workplace and student body, Gwen served as a consultant, parent and advisor."  
- Barbara Henderson B'77, Diversity, Equity and Inclusion Director